Scheduled Cruise Tampere-Hämeenlinna-Tampere
Hopealinjat offers cruises on the beautiful lakes of Vanajavesi and Pyhäjärvi from Hämeenlinna via Visavuori to Tampere on Tuesdays, and from Tampere to Hämeenlinna on Wednesdays. Cruise stops include the Lepaa Wine Farm, the workshop of sculptor Emil Wikström and the pavilion of cartoonist Kari Suomalainen in Visavuori, as well as the Lempäälä canal and the Holiday Spas Rantasipi Aulanko and Rantasipi Eden. Our ships also bypass Vaihmalan Hovi in Lempäälä (15 minutes from Lempäälä canal). Along the route you can enjoy delectable food and beverages that suit all tastes.
Hämeenlinna-Visavuori-Tampere • Tuesdays
Tampere-Visavuori-Hämeenlinna • Wednesdays
Hämeenlinna-Petäys-Visavuori-Petäys-Hämeenlinna • Thursdays
Hämeenlinna-Visavuori-Hämeenlinna •  Fridays
Hopealinjat organises special cruises in Hämeenlinna, such as day cruises and afternoon and evening cruises that include programed events. Hop on our Friday Night Live Cruise or take the kids on a real adventure on the Pirate Cruise on Mondays!
Purchase tickets for a cruise
Buy tickets from online shop »
Buy a ticket for a scheduled cruise directly on board.
You can also buy tickets from our ticket counter at Laukontori Harbour, Tampere, please see the contact information and hours of service »
Enjoy a tasty meal on board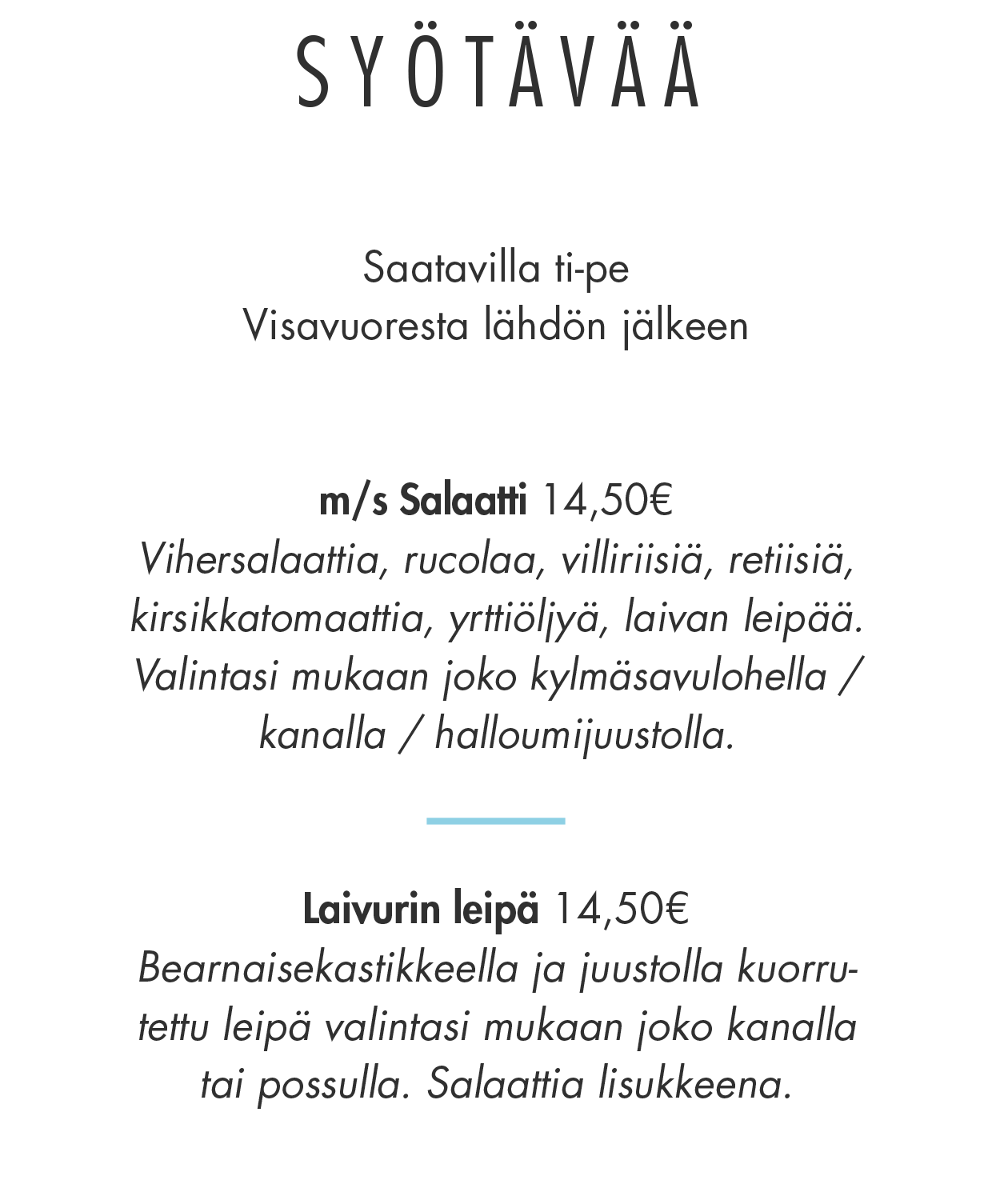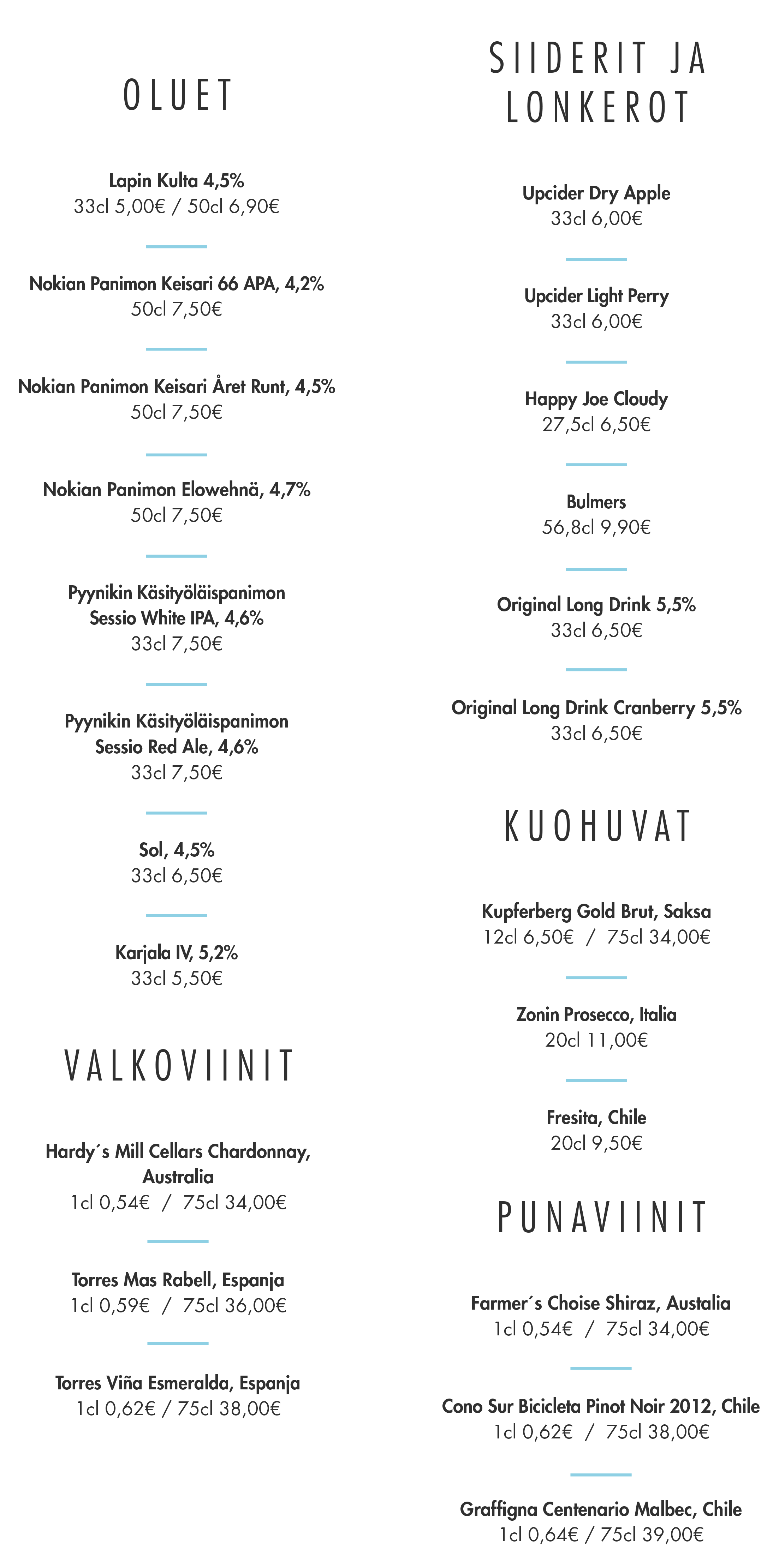 Schedules & Prices
AIKATAULUT
Hämeenlinna – Tampere / Tampere – Hämeenlinna to ja la 28.6.–25.8.2018

to
 la
9.30
Hämeenlinna satama**
18.00
9.50

Spa Hotel Aulanko

17.40
10.20

Hattula, Mierolan silta*

17.10
11.00

Lepaa, viinitila

16.30
12.00

 

Sääksmäen Silta*

15.30
12.20
 
Visavuori museo
 
15.10 
13.30

Visavuori museo

14.00

14.00

Toijala satama*

13.30

15.40

Lempäälä kanava

*  myös Vaihmalan Hovi / Myllyranta ennakkovarauksella

11.50

17.05

Spa Hotel Eden*

10.25

17.40

Hotel Rosendahl*

9.50

18.00

Tampere, Laukontori***

9.30

la
*Pysähdys laiturissa vain ennakkovarauksella
** Hämeenlinnan satama, Arvi Kariston katu 8 sijaintimme kartalla
*** Laukontorin satama, Tampere sijaintimme kartalla
Prices
H
M
L

A
U
L
A
N
K
O

H
A
T
T
U
L
A

L
E
P
A
A

P
E
T
Ä
Y
S

S
I
L
T
A

V
I
S
A
V
U
O
R
I

T
O
I
J
A
L
A

L
E
M
P
Ä
Ä
L
Ä

E
D
E
N

R
O
S
E
D
A
H
L

T
A
M
P
E
R
E

Hämeenlinna

5

15

20

25

25

25

25

35

45

50

50

Spa Hotel Aulanko

5

15

20

20

20

25

25

35

45

45

50

Hattula

15

5

5

20

20

20

25

30

40

40

45

Lepaa

20

20

5

15

15

20

20

30

35

40

40

Petäys

25

20

20

15

15

20

Sääksmäen
Silta

25

20

20

15

15

5

15

25

30

35

35

Visavuori

25

25

20

20

20

5

5

20

30

35

35

Toijala

25

25

25

20

15

5

20

30

30

35

Lempäälä

35

35

30

30

25

20

20

20

25

25

Spa Hotel Eden

45

45

40

35

30

30

30

20

15

15

Hotel Rosendahl

50

45

40

40

35

35

30

25

15

5

Tampere, Laukontori

50

50

45

40

35

35

35

25

15

5